Digital Security Guard
Provide Real-time, Live Monitoring, Unlimited Security
Security Guard Services,  Remote Monitoring, Emergency Response Service, Video Surveillance Equipment Set up and Installation.
Providing you with valuable, commercial and residential security solutions in South Florida and beyond.
Construction Site Security
We have the unique tools and equipment to provide security for even the most remote projects
Retail Business Security
Reduce Shrink and Employee theft and Protect your Investments
Parking Lot Security
Use Remote video monitoring to provide escorts for employees going out to their cars.
And More....
We can consult, setup and secure based on your security needs
We provide security and emergence response services from a few hours a day to 24/7 security. We staff trained and licensed security guards for both on-site physical security and off-site remote security. With Digital Security Guard you receive more than just high-tech monitoring solutions. Our services include Security Camera System Design and equipment installation, to on-site security guard service to off-site video response security all based out of our headquarters in Boca Raton, South Florida.
What We Do.
Remote Monitoring Services: Use Digital Security Guard's off-site services to allow or deny access to your community or business. Trained to stop crimes before they occur and to dispatch emergency response. Learn More
Video Surveillance Equipment Design and Installation: We can design, set up and install a unique top of the line video security camera system, right here to provide the best protection possible. Learn More
On-Site Security Guards: and when you need to keep your property, people and assets safe our well-trained armed/ unarmed officers will be there to protect you. Learn More
Setup, installation, security guards and off-site surveillance all provided by a single company. Think of the possibilities.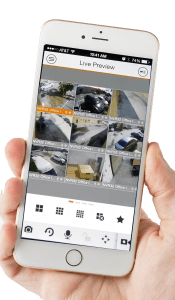 LIVE VIDEO FROM YOUR MOBILE DEVICE
Plus, with our top of the line security camera systems receive the TechproSS application for free. Access to your video feed at your fingertips any time day or night, you will no longer wonder what is happening while you're away. With a few clicks you can view your security system from anywhere!