Private security services by Digital Security Guard are creating quite a buzz in the security industry.  Live video monitoring is a technique pioneered and mastered by Digital Security Guard and is the latest tool to monitor and fight crime.  Digital Security Guard uses only licensed security guards to view and monitor your live video feeds. Using licensed security guards that are trained to recognize deception and illegal activities will easily provide a greater level of protection. Using off-site private security services ensures that there will be no collaboration amongst employees or potential thieves.  
Traditional security guard companies have started using this remote video monitoring concept in tandem with their physical licensed security guards.  Remote security monitoring uses remote guards who are actual licensed security guards.  The cost of having a physical security guard is astronomical compared to using Digital Security Guard's remote viewing.  Our licensed security guards have strong backgrounds in law enforcement, security & military.  They will know how best to thwart a crime or stop a crime already in progress dead in its tracks.  
Even older security surveillance systems and cameras have the ability to use a mic or tie into an alarm function.  A mic on a security camera is a valuable tool when warning perpetrators that you have already notified authorities.  Loud audible alarms from an alarm system will send any criminal in the opposite direction.  Digital Security Guard has a team of security specialist that will help you layout a strategic surveillance plan.  Having a security system designed by professionals with FREE US based technical support will allow for greater flexibility and coverage.

Our remote video monitoring service by licensed security guards has already found a nice home in many state and public institutions.  Schools and prisons are the largest users of this new fangled technology of blending remote video monitoring with their current video surveillance equipment.  The fusion of a technology (security surveillance cameras) and a service (security guards) creates a powerful and affordable techno service.  The airline industry across the board has completely embraced this robust technology.  From TSA screening, pre-flight, on-flight and employees behind the curtain like baggage are now held more accountable for their actions. Missing baggage has long plagued the airline industry with workers rifling through one's personal belongings.
Apartment and Community monitoring for neighborhoods is done at a fraction of the cost.  A plethora of gated community security systems now utilize this authoritative and commanding techno service to provide safety at pennies to the dollar.  Banks and other financial institutions that deal in cash and high dollar assets are on a long waiting list to get this service installed ASAP.  Car dealerships realize large losses due to theft and Digital Security Guard has already proven itself at some large auto dealerships across the nation.  The cannabis and recreational marijuana industry was on board from the beginning due to stringent laws pertaining to security surveillance requirements.  Any type of retail establishment that deals in cash:  Gas Stations, Convenience Stores & Restaurants are now starting to incorporate Digital Security Guard remote video monitoring by licensed security guards.
The hospitality and hotel industry is by far one of the largest users protecting their assets.  A hotel's main asset is their land and having a birdseye view of your complete property allows for complete surveillance coverage.  Protecting guest and customers from any criminal activities is greatly reduced by using Digital Security Guard.  Industries that embrace our technology including many government institutions are:  Health Care, High Rise Buildings, Schools (colleges & universities plus grade schools), Stadiums, Arenas,  Outdoor Venues and any area in general where persons gather in number.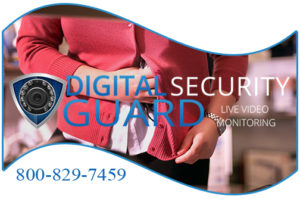 Give Digital Security Guard a call if you have any questions concerning our private security services.  800-829-7459
Private Security Services