Thanks to the immense growth in technology over the past two decades, security solutions have evolved from the traditional on-duty security guard. Digital Security Guard employs an innovative form of protection that is raising the bar in the industry. Remote Video Surveillance is a hybrid of video surveillance systems and licensed security guards. These two methods have been proven to be fairly effective, however integrating them together has shown to be the most powerful solution available!
There are extensive benefits when employing licensed security guards in conjunction with remote video surveillance. A licensed security guard closely monitors any and all activity remotely via your surveillance system and is able to take the proper protocol to any potential incident. Digital Security Guard offers this unique security solution as well as emergency response services based on your needs. Whether you need just a few hours per day or twenty-four hours a day, seven days a week.
Essentially any industry, business or commonly populated area with an existing surveillance system can instantly be set up with remote video surveillance. Currently, most mass transit locations, such as airports and train stations have been utilizing remote video surveillance with licensed security guards. Additionally, you can find similar systems in gated communities and apartment complexes as well as hospitals and doctors offices.
There are several other establishments that would greatly benefit from the cost-effective and increased protection that remote video surveillance provides. Banks and financial institutions will usually keep a guard stationed at all times, however, an improved method could prevent a crook before they even have a chance. Large hotels and resorts rely heavily on around the clock surveillance to ensure the safety of their guests and staff, and often times pay a pretty penny on staffing licensed security guards on the property. Schools and educational institutions are also an excellent candidate for this system due to the increasingly violent attacks taking place.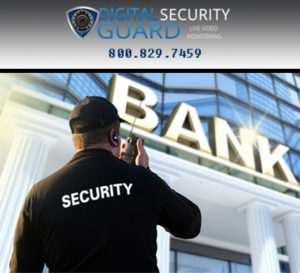 Not sure if this is the best security option for your organization? Remote Video Surveillance does not have to be limited to certain site requirements. Take a look at this list of other fantastic locations that Digital Security Guard highly recommends implementing remote video surveillance:
Remote video surveillance provides these businesses with a much more affordable solution to securing their property and ensuring the safety of their patrons while simultaneously upgrading the level of security. The video surveillance system easily exceeds the abilities of a licensed security guard by keeping peeled "eyes" at every turn and corner while a licensed professional security guard monitors and is able to identify any potential threat, thus preventing many crimes before they can even happen. Some things, however, are inevitable. If an incident does, unfortunately, take place, the remote video surveillance with the security guard will be able to act in unison to properly alert emergency services as well as provide clear, concise footage of any culprits or victims involved to the police. You can be confident the perps won't get far when the authorities have perfect imaging of their faces and vehicles! Call Digital Security Guard at 800-829-7459 with any inquiries about our remote video surveillance with a licensed virtual guard. Get a free quote!

Read more about our remote video surveillance and security camera monitoring service here.
Remote Video Surveillance