Digital Security Guard is a leading provider of remote security camera monitoring services. If you have been looking for a premier and effective form of security monitoring for your home or business then you understand the value of a proactive response system. Digital Security Guard provides licensed, company-trained security guards to monitor the camera feed from your security surveillance system in real time and send a response to halt criminal activity. Over the few last years, there has been a steady increase in demand for remote video monitoring services. Our services are an effective security alternative to traditional alarm systems and security guards.
We can provide you and your business with expert remote security camera monitoring services no matter how large or complex your CCTV system may be. Our services can be carried out at all times; meaning you can have a vigilant eye securing your property from as many camera points as you deem necessary twenty-four hours a day / seven days a week. We work with our customers to provide remote security camera monitoring services that'll meet all of the specifications required of your property.
Our licensed security guards can provide remote security camera monitoring and emergency response services for any and all industries. You can use our off-site remote monitoring services in order to allow/deny entry to your gated community or business. Our team of high-quality security personnel has a proven track record for stopping crime before it occurs and quickly dispatching emergency response when needed. Some of the sites and industries we help secure include:
Protecting company assets, employees, customers, and technology are huge factors pertaining to running a successful business. The provision of a high-quality security system paired with remote security camera monitoring is one of the most effective approaches that can be taken to do this. Digital Security Guard has extensive experience with remote security surveillance and can help prevent break-ins and property destruction.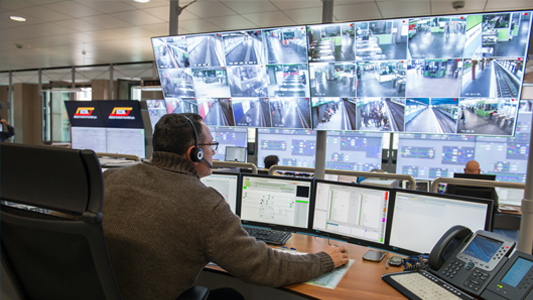 Remote security camera monitoring on high-quality closed-circuit television systems has proven to be a highly proficient crime deterrent. If you are looking to mitigate risk and costly employment costs for physical security guards at your location we can help. Our services have proven to be effective not only in expertly securing business sites, but also increasing employee activity.
Digital Security Guard can provide you or your company with a premier video monitoring system that places emphasis on your safety and peace of mind. Our services can provide your home or business with the security needed to protect your assets from theft and vandalism. Contact our remote video monitoring experts at Digital Security Guard to have any aspects of our services clarified and make your home or business site a safe haven protected from criminal activity.
Remote Security Camera Monitoring